Getting Christ out of Caesar's Shadow: A Call to the Confessing Church
---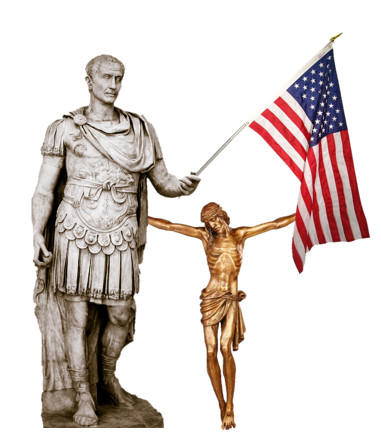 "The church is: holy believers and 'the little sheep who hear the voice of their shepherd.'" (SA 12:2)
This statement, drawn from the Lutheran Confessions, seems innocuous; the sort of thing one might find placarded under effeminate pictures of Jesus on churches' nursery walls. Perfectly safe, non-threatening, and tame. If we took it seriously we would find it revolutionary; the sort of thing that could profoundly transform the Church and severely rattle world powers. It has the potential to expose the American dream as an anemic and idolatrous substitute for the Kingdom of God, while simultaneously calling the Church to repent for being content to let Christ be concealed beneath Caesar's shadow. Those are radical words!
The Church Is Holy Believers in Jesus
Consider what is being said. The confession first states who the Church is: the Church is holy believers in Jesus. Scripture defines holy believers as those washed by the Word (Ephesians 5:26), those sanctified by the Holy Spirit's working through the Word (1 Corinthians 1:2), and those baptized into Christ the enfleshed Word (Romans 6:3; Galatians 3:27; 1 Corinthians 12:13). This is the revolutionary work of God, the work that recreates us. He gives us a new identity, one that transcends cultures, countries, and political parties. We are not first German or American or Republican or fill-in-the-blank; we are first the holy people of God, the people God has called out of the world and claimed as His own. God says to us, "you have died, and your life is hidden with Christ in God" (Colossians 3:3) and "you are not your own" (1 Corinthians 6:19), and "you were ransomed… with the precious blood of Christ" (1 Peter 1:18–19). Through God's working in Word and Water (Baptism), we are re-identified, given a new, defining identity.