In celebration of Father's Day 2017, the Hausvater Project presents:
"Father's Day: The Team Captain"
"Man Up! The CHRIST-Centered Quest for Real Masculinity"
"To Whom Will You Give Your Daughter's Hand in Marriage?"
Reminder: Christian Education Symposium, coming to Wasilla, Alaska, July 1, 2017
Save These Dates: Additional Conferences coming to Iowa on October 7 and October 14
Father's Day: The Team Captain
By Jonathan Conner
Father's Day is June 18. Expect a media blitz featuring BBQ, grills, fishing rods, and power tools. The clear advertising ploy is: "These things make men manly. The man in your life needs them." There's no denying men and fathers are often found with these items in their hands—what man doesn't like burning meat and revving power tools—but it's worth asking whether a smoking grill and a power tool make men manly. What is it that makes men manly? How is authentic manhood defined? Our culture is haunted by these questions. What does the Bible say about what makes a man manly?
We begin in the beginning: Genesis 1, "God created man in his own image, in the image of God he created him; male and female he created them. And God blessed them. And God said to them, 'Be fruitful and multiply and fill the earth and subdue it, and have dominion over the fish of the sea and over the birds of the heavens and over every living thing that moves on the earth.'" These verses convey at least two essentials. 1) God created a unified team to celebrate and share His blessings and 2) This team worked together as God's special agents to defend and protect His creation.
Click to Continue Reading: http://www.hausvater.org/articles/373
Man Up! The CHRIST-Centered Quest for Real Masculinity
By Andrew Packer
Book Review: Man Up! The Quest for Masculinity, by Jeffrey Hemmer (St. Louis: Concordia Publishing House, 2017)
I won't lie to you. When I first read the title for this book, I wasn't sure I would read it since "Man up!" has become such a clichéd phrase. Concordia Publishing House made an extremely wise move, though, in making Pastor David Petersen's foreword available online before the book came out. His foreword convinced me to buy the book—and I am grateful I did.
It is no easy task for a man to write a book on this topic without coming off as a know-it-all who just wants to lecture other men to be more like him. Pastor Hemmer, with both his wit and his writing style, avoids this pitfall. But perhaps more than anything else, it is Pastor Hemmer's focus on Christ throughout the book that keeps this from ever coming across as nagging.
Click to Continue Reading: http://www.hausvater.org/book-reviews/372
To Whom Will You Give Your Daughter's Hand in Marriage?
By Ryan MacPherson
Book Review: What He Must Be … If He Wants to Marry My Daughter, by Voddie Baucham, Jr. (Crossway Books, 2009)
In this marriage-readiness book, Pastor Voddie Baucham seeks to provide "a clear, balanced, realistic, biblical picture of what moms and dads should be looking for on behalf of their daughters and seeking to produce in their sons" (9). He avoids the heavy-handed approach of arranged marriages, but he even more sternly rebukes the hands-off approach that would "let boys be boys" and leave girls without any paternal guidance for becoming women of God and wives of virtuous men. Rather than letting the culture dictate the terms, Pastor Baucham situates marriage and the family within the larger picture of God's salvation plan: "my role in fathering my children is a lifelong partnership in kingdom expansion," as fathers raise their children up in the Lord and prepare them to do the same for the next generation (17).
What He Must Be … If He Wants to Marry My Daughter is not some sugar-coated how-to book for pious evangelicals; rather, the book frankly calls a spade a spade wherever it may be found, with the author providing equal measures of self-criticism, rebuke for the church, and correction of secular society. As a result, some readers will feel a swift kick in the pants, and they probably deserve it. At the same time, all readers can benefit from the discernment and discipleship that Pastor Baucham offers.
... Recognizing the value of many counselors (Proverbs 15:22), Christian fathers would be wise to read this book together with other Christian fathers in preparation for discussing it with their daughters, their sons, and, of course, their wives. Pastors similarly can make excellent use of this book in a men's Bible study. (Click here for a six-session guide, pairing each chapter with pertinent Bible passages for discussion.) By working as a team, family members can determine how best to apply Baucham's suggestions in their home, such as when developing Christ-centered courtship practices that avoid the pitfalls of the contemporary dating scene (chap. 9).
Click to Continue Reading: http://www.hausvater.org/book-reviews/374
Christian Education Symposium (Wasilla, Alaska, July 1, 2017)
Commemorating the Quincentennial of the Lutheran Reformation, 1517–2017
Schedule
Main Events: Saturday, July 1, 2017, 10 a.m.–4 p.m.
Bonus Sessions: Friday evening and Sunday morning
Session Titles
Rediscovering God's Design for Marriage
Priests of Their Home: The Deuteronomy 6 Family
The Church, the State, and the Family in Education: The Matthew 28, Romans 13, and Ephesians 6 Connection
Intergenerational Mentoring: The Titus 2 Congregation
The Five "Solas" of the Reformation
Featured Speakers
Professor Ryan C. MacPherson is Chair of the History Department at Bethany Lutheran College (Minnesota), founding president of the Hausvater Project, and author of numerous books, including Studying Luther's Large Catechism and Telling the Next Generation.
Attorney Nathan K. MacPherson is a second-generation Constitutional defense attorney whose expertise includes advising parents, pastors, and government officials on First Amendment, taxation, education, and parental rights issues. This conference will be the first time that brothers Ryan and Nathan MacPherson appear as fellow presenters.
Pastor Robbin Robbert has served for twenty years in the ministry, spending the past five years at King of Kings Lutheran Church. He also chairs the Wisconsin Evangelical Lutheran Syond's Committee for the Ministry to the Deaf and Hard of Hearing.
Childcare and Mini VBS
Provided free of charge during the Saturday sessions. Please register in advance to assist our planning. Each child will receive a copy of Color the Catechism.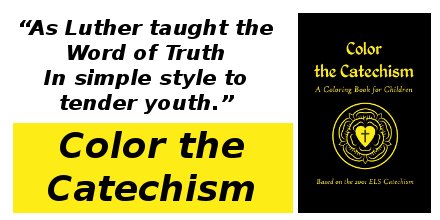 Host
1601 N. Lucille St.
Wasilla, AK 99654
907–376–7771
Affordable Lodging Options
Please contact Pastor Robbert Robbin of King of Kings Lutheran Church at the phone number listed above.
Registration
This conference is offered free of charge. We welcome donations to assist us in covering the necessary costs.
We encourage participants to register in advance in order that we may have a headcount for preparing lunch and planning our Mini VBS.
Please also invite your friends via the Facebook event page.
Forgiveness in Christ: it's for you and your children. (Acts 2:38-29)
The Hausvater Project seeks to equip Christian men and women for distinctive and complementary vocations in family, church, and society, by fostering research and education in light of Holy Scripture as proclaimed by the Lutheran Confessions.
Follow us on Facebook and Twitter

Click to unsubscribe from this complimentary newsletter provided by the Hausvater Project, a nonprofit organization promoting a biblical vision for family, church, and society.