In celebration of Mother's Day 2017, the Hausvater Project presents:
"Woman: Divine Image Bearer, Life Bearer, Strong Helper, Bride of Christ Emulator"
"Her Children Rise Up and Call Her Blessed"
Dozens of articles on motherhood, and hundreds on other family-related topics, archived at www.hausvater.org
Save the Date: Christian Education Symposium, coming to Wasilla, Alaska, July 1, 2017
Woman: Divine Image Bearer, Life Bearer, Strong Helper, Bride of Christ Emulator
By Jonathan Conner
A wife's submission is not a sign of weakness or inferiority, but an imaging to the world of the loving submission of Christ's bride to her Groom. St. Paul calls this imaging a "profound mystery." It is this profound mystery women have the privilege of portraying to the world. With an appreciation of these divine titles, we are prepared to offer women esteem unrivaled by the world. Any means or method which despises these defining characteristics of women is rejected. The Church values women as women and celebrates their God-given uniqueness. The Church celebrates a woman's creation in the image of God, her potential as a life-bearer, her esteemed position as a strong helper, and her unique ability to demonstrate to the world the Church's loving submission to Christ.
Click to Continue Reading: http://www.hausvater.org/articles/371
Her Children Rise Up and Call Her Blessed
By Robert Harting
As Jesus looks past the soldiers, through the blood streaming from the crown of thorns, through eyes that are in a moment to be closed in death, he honors his mom. He is perfect and holy, and now so are we. Why? Because Jesus' perfect life is credited to us as this holiness is received by faith alone, we are saved by grace alone. Jesus death and resurrection declare us forgiven by his life, death and resurrection. That is why Christian moms too, are holy, saints and now and also in paradise. Jesus did it all.
But that is not all.
Jesus also gave us Christian moms. Such a woman is a woman who fears the Lord, a woman thus to be praised and one for whom we rise to call her a blessed God gift from Jesus.
Click to Continue Reading: http://www.hausvater.org/sermons/370
Christian Education Symposium (Wasilla, Alaska, July 1, 2017)
Commemorating the Quincentennial of the Lutheran Reformation, 1517–2017
Schedule
Main Events: Saturday, July 1, 2017, 10 a.m.–4 p.m.
Bonus Sessions: Friday evening and Sunday morning
Session Titles
Rediscovering God's Design for Marriage
Priests of Their Home: The Deuteronomy 6 Family
The Church, the State, and the Family in Education: The Matthew 28, Romans 13, and Ephesians 6 Connection
Intergenerational Mentoring: The Titus 2 Congregation
The Five "Solas" of the Reformation
Featured Speakers
Professor Ryan C. MacPherson is Chair of the History Department at Bethany Lutheran College (Minnesota), founding president of the Hausvater Project, and author of numerous books, including Studying Luther's Large Catechism and Telling the Next Generation.
Attorney Nathan K. MacPherson is a second-generation Constitutional defense attorney whose expertise includes advising parents, pastors, and government officials on First Amendment, taxation, education, and parental rights issues. This conference will be the first time that brothers Ryan and Nathan MacPherson appear as fellow presenters.
Pastor Robbin Robbert has served for twenty years in the ministry, spending the past five years at King of Kings Lutheran Church. He also chairs the Wisconsin Evangelical Lutheran Syond's Committee for the Ministry to the Deaf and Hard of Hearing.
Childcare and Mini VBS
Provided free of charge during the Saturday sessions. Please register in advance to assist our planning. Each child will receive a copy of Color the Catechism.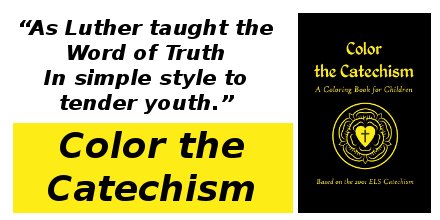 Host
1601 N. Lucille St.
Wasilla, AK 99654
907–376–7771
Affordable Lodging Options
Please contact Pastor Robbert Robbin of King of Kings Lutheran Church at the phone number listed above.
Registration
This conference is offered free of charge. We welcome donations to assist us in covering the necessary costs.
We encourage participants to register in advance in order that we may have a headcount for preparing lunch and planning our Mini VBS.
Please also invite your friends via the Facebook event page.
Forgiveness in Christ: it's for you and your children. (Acts 2:38-29)
The Hausvater Project seeks to equip Christian men and women for distinctive and complementary vocations in family, church, and society, by fostering research and education in light of Holy Scripture as proclaimed by the Lutheran Confessions.
Follow us on Facebook and Twitter

Click to unsubscribe from this complimentary newsletter provided by the Hausvater Project, a nonprofit organization promoting a biblical vision for family, church, and society.